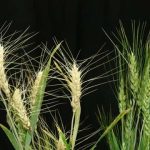 A new Agricultural Research Service study should boost efforts to develop new varieties of wheat that are better equipped to resist a fungal disease, according to the Department of Agriculture.
The report announced Monday identifies a key gene that could be used as a genetic resource by wheat breeders to address the challenge posed by Fusarium head blight.
FHB, also known as "scab," thrives in warm and moist conditions and is becoming an increasing threat worldwide because of unpredictable weather patterns, according to USDA.
The disease has caused an estimated $2.7 billion in losses in Minnesota alone since the 1990s, and forced many wheat and barley farmers there into bankruptcy.
A plant molecular geneticist with the ARS Central Small Grain Genotyping Laboratory, in Manhattan, Kansas, identified a gene, known as TaHRC, that plays a key role in conferring resistance to FHB.
The findings may be applied to breeding improved varieties of wheat. The discovery is the result of more than ten years of research by an international team.
---
Photo Credit: Guihua Bai/ARS.